Why Choose Taurus Engineering and Manufacturing as your Contract Manufacturer?
Taurus Engineering and Manufacturing takes the same attention to detail utilized in its molding and secondary operations into our full device contract manufacturing. By allowing Taurus to focus on the manufacturing process and utilizing our quality management systems, procurement expertise, labor and inventory management, it allows you, the customer, to get to market quicker and focus on the things that mean the most, sales and marketing. Whether the device is a small assembly in simple packaging or the device is FDA regulated, has a large bill of materials, ESD assembly, requires complex packaging and even sterilization, Taurus is can be your fully integrated, complete box-build solution with our "Think Outside The Box" commitment since 1985.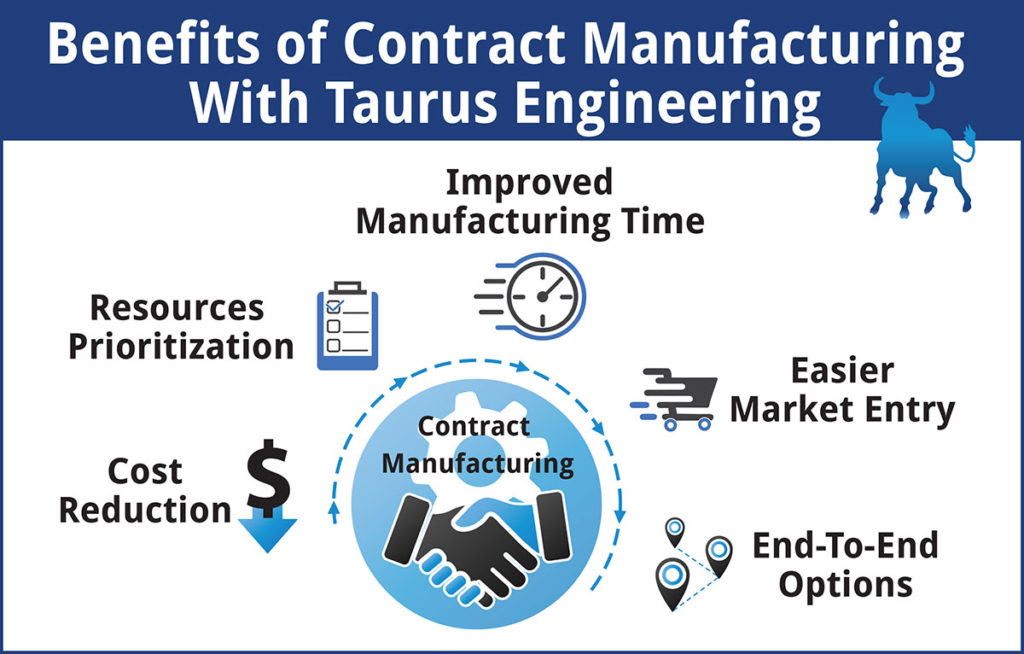 Benefits of using Taurus Engineering and Manufacturing as your Contract Manufacturer
Taurus engineers have the same passion for your project as you do and whether you are manufacturing a thousand assemblies a year or hundreds of thousands a year, Taurus provides the same service and dedication to your project. Through our understanding of the build process, Taurus can recommend cost-saving methodologies and quality assuring test methods to help the project be successful.
Everyone knows that managing labor, supply chain, and inventory can be stressful. Let Taurus be the extension of your team and allow us to manage that stress for you. With over 38 years of experience, Taurus has created a solid foundation of management tools and vendor contacts that make the management of these areas seamless and provide your product on time. Taurus collaborates with our customers to understand their forecast and timelines to provide strategies and solutions from development and through production.
Taurus is ISO 13485:2016 and FDA registered and maintains a high standard quality management system that encompasses the full range of our motions, from when the purchase order is received to when the product is shipped with certificate of compliance. Taurus continuously trains, monitors, and audits our systems for effectiveness to allow both, us and our customers, to get a good night's sleep.
The Right Contract Manufacturer
There are many factors to consider when searching for a contract manufacturer to work with. Taurus Engineering and Manufacturing is passionate about serving our customers while providing a level of customer service that is a tier above the industry standard. We'll go above and beyond to deliver an exceptional production experience that allows you to bring high-quality products to market swiftly and affordably.